Cerebral palsy support groups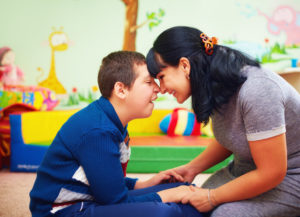 Families affected by cerebral palsy can benefit from joining groups that offer emotional support. These groups can help parents and caregivers feel less alone as they care for a child with this condition.
Support communities are an excellent place for new parents to get tips and advice from those who have already raised children with cerebral palsy. By talking with people who have been in their shoes, parents and caregivers can better prepare for their family's future.
Cerebral palsy support groups:
Help caregivers find reassurance and understanding
Let families know that their struggles are normal
Offer hope and an optimistic perspective
Provide a platform to share obstacles and achievements
Relieve stress and frustration
Whether you attend a local meet-up or join an online group, cerebral palsy support groups provide an important sense of comfort and community.
Download our free Cerebral Palsy Guide below to access more information for parents and caregivers of children with cerebral palsy.
National cerebral palsy organizations
Several cerebral palsy organizations are available to families nationwide. These national organizations ensure that children and parents can access the resources and support they need no matter where they're located.
Local cerebral palsy organizations
Local cerebral palsy support organizations help people access the resources they need close to home.
The organizations listed below offer affiliate programs in many major cities. To find an affiliate group near you, visit their websites and provide your location. You will then receive a list of nearby affiliate groups that offer services for both children and adults with cerebral palsy.
Online support groups for cerebral palsy
Many families may find it challenging to make time in their hectic schedules to attend group meetings and events. Thankfully, there are a variety of online cerebral palsy organizations to help busy parents access the resources and support they need.
Community cerebral palsy support options for children
Children with cerebral palsy may feel alone or different than their peers. Thankfully, just like parents, children with cerebral palsy can seek community and support.
Community cerebral palsy support options such as playgroups, camps, and sports help bring children with disabilities together to create a sense of camaraderie and friendship.
Playgroups

Playgroups are a great way for children with physical and cognitive disabilities to learn valuable social skills. Playgroups can be therapeutic for children since they allow them to meet others with similar disabilities. These interactions can help children gain independence and feel more confident in social settings such as school and day care.

Playgroups meet throughout the year and are available in most major U.S. cities. Some local school communities may also have playgroups and meet-ups for disabled children.

Summer Camps

Summer camps for children with cerebral palsy can also help build confidence and independence. Children with different disabilities can participate in swimming, hiking, fishing, crafts, sports, campfires, educational activities, and more at summer camps.

Children with cerebral palsy can form meaningful friendships and memories by joining in activities that take the focus off of their disability.

Special Olympics

The Special Olympics Young Athletes program was founded to help children with intellectual disabilities participate in adaptive sports. These sports and activities aim to help disabled athletes build confidence and strength while exposing them to the importance of teamwork.

Your child can participate in a range of Special Olympics sports on a local, regional, and national level.
Find cerebral palsy support services today
There are a variety of cerebral palsy organizations and support groups that can help you and your family members navigate life after a diagnosis. The best way to determine which cerebral palsy organization to join is to find one that fits your family's specific needs.
You may opt for an online support group because of the convenience it provides. On the other hand, you may prefer local meetings that offer support in your immediate area.
All cerebral palsy organizations offer a network of families who understand the challenges of raising a child with a disability. Whether you're feeling overwhelmed, confused, or concerned, having a group to turn to during these times can make all the difference.
If you need help finding support options for your family, download your free copy of our Cerebral Palsy Guide.